Leshana Tova Tikoseiv Veseichoseim Le'Alter LeChaim Tovim U'Leshalom


("May you immediately be inscribed and sealed for a Good Year and for a Good and Peaceful Life")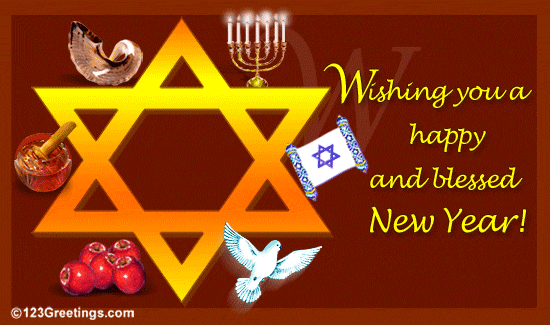 Rosh Hashanah
(which means head of the year) is a Jewish Holiday commonly referred as the the Jewish New Year. Jews will celebrate the the first day of year 5770 starting at the sunset of September 18, 2009 (today).
Rosh Hashanah is described as "the day of judgment" (Yom ha-Din) and "the day of remembrance" (Yom ha-Zikkaron). Some
midrashic
descriptions depict
God
as sitting upon a
throne
, while books containing the deeds of all humanity are opened for review, and each person passing in front of Him for evaluation of his or her deeds.
It falls in the month of Tishrei, which is the seventh month on the Hebrew calendar. The reason for this is because the Hebrew calendar begins with the month of Nissan (when it's believed the Jews were freed from slavery in Egypt) but the month of Tishrei is believed to be the month in which God created the world. Hence, another way to think about Rosh HaShanah is as the birthday of the world.
Rosh HaShanah is observed on the first two days of Tishrei. Jewish tradition teaches that during the High Holy Days God decides who will live and who will die during the coming year. As a result, during Rosh HaShanah and Yom Kippur (and in the days leading up to them) Jews embark upon the serious task of examining their lives and repenting for any wrongs they have committed during the previous year. This process of repentance is called teshuvah. Jews are encouraged to make amends with anyone they have wronged and to make plans for improving during the coming year. In this way, Rosh HaShanah is all about making peace in the community and striving to be a better person.

(http://judaism.about.com/od/holidays/a/roshhashanah.htm)
HAPPY NEW YEAR! PEACE & BLESSINGS UPON ISRAEL AND ITS PEOPLE!